6 Home Office Ideas for the Ultimate WFH Setup
Covid-19 has forced many to work from home. Love it or hate it, it's a trend that's increasing, and likely to become the new normal for the foreseeable future.
It makes sense then, that many people have been transforming whatever spare space they have at home into a workable office. It would also be reasonable to conclude that, moving forward, many potential homeowners will be looking for houses that include an office space. Need some assistance? We share 6 home office ideas and must-haves for the ultimate working from home setup.
High Speed Internet
Nobody likes slow internet.  Trying to get important work done when your internet is not keeping up with you has got to be up there with getting stuck in traffic when you're running late, and forgetting to take the bin out on bin day.Not only is slow internet frustrating, but it's unproductive, and in a time where Zoom calls are becoming the main channel for meetings in a socially-distanced professional setting, it can be down right embarrassing.
Ensure you do your research among friends and local providers to see what service providers provide the best connectivity in your local area, and whether or not you need a router. The best routers don't just give you faster internet – they keep you and all of your family members connected to your job – think smart TVs, multiple laptops, iPads and mobile phones.
Ergonomic Chair
Next on our list of home office ideas to consider is an ergonomic desk chair. A dining chair may look aesthetically pleasing, but you'll very quickly realise it won't cut it as an office chair when it comes to comfort (if you haven't already).
There are many things to consider when it comes to choosing the right one for you. Height, material, whether you want armrests, and the ability to make adjustments –  especially if using between multiple people – are just a few.
When it comes to material, leather and vinyl are easier to clean, but fabric or mesh will breathe easier. Leather tends to last the longest, but may need upkeep in the way of polish to keep it in great condition. Look for proper padding, and sit in the chair before you buy to test comfort if you can.
Armrests are an easy feature to forget about, but an important one to consider: they'll provide support while working and resting, and allow you to relax your shoulders as well. Check them against your desk however, as a mis-match in desk height vs chair height may mean the armrests will prevent you from being able to tuck your chair in.
Spacious Desk
A spacious desk is a mus-have. Coffee and dining tables work fine until you need to share the space with family members wanting to eat, the kids' homework, newspapers and other household paraphernalia that accumulates throughout the day.
Identify first what you'll mostly be using the desk for. PC, or laptop? If a PC, make sure there's enough space underneath for the computer tower underneath. If you don't have space for shelves or filing cabinets, make sure there's ample room for desktop file organisers.
Take into account the shape of the room – you may find an L-shaped desk makes best use of the space and allows more than one person to work from it should your spouse / child / housemate need to work from home too.
Look for built-in wiring holes for electrical connections, or better yet, get yourself a pop-up power point – more on that below…
Sufficient Power Points
If you're planning on creating a complete home office setup, one power point is not going to be sufficient for what you need. Printer, iPhone, laptop, potentially a second screen means multiple power points – which in turn means multiple cords and cables.
For a professional home office setup that's sure to impress clients, and any potential buyers when you choose to sell own the track, a pop-up Point Pod – or two – is the ultimate investment.
Choose from a single or three power points with a USB, a pod with just two power points, or opt for the soon-to-be-release boardroom table pod point with two power sockets, two fast charging USBs, HDMI and data.
Less clutter, more desk space, and all the power / charging / connectivity access you need at your fingertips. Literally.
Wireless phone charging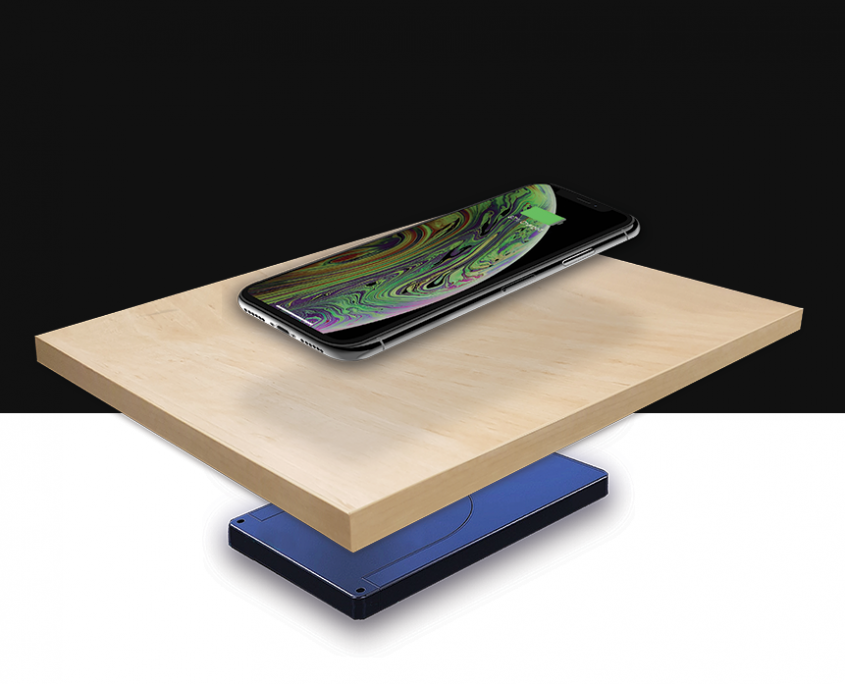 Last but definitely not least on our list of must-have office ideas? How about wireless phone charging? Our Unwyre is our new, completely wire-free way to charge your phone on any desk, bench or surface (like solid timber or marble) up to 30mm thick with no routing, drilling or modification required.
It's designed with a unique cartridge mounting system that allows you to easily remove and replace the charger at any time,  and the Qi compatible charging means you'll have your phone charged in no time.
Inspired By Our Home Office Ideas & Keen To Set One Up For Yourself?
We can't help you with finding a chair, or desk or high speed internet (not just yet, anyway), but for your wireless charging or pop-up power points – we're your guys!
If you're looking to have a desk custom-made, speak to your furniture maker about how you can incorporate a Point Pod into your design. Already have a desk in place? Our pop-up power points can be retrofitted as well. . We sell a range of Point Pod power sockets, Point Pod Compact in Black or Silver, Point Pod Compact with USB (one socket) in Black or Silver, or the Multi (3 sockets and USB also in Black or Silver). Launching in late August, we have a new Boardroom table Point Pod that offers 2 sockets, USBs, Data and HDMI.  All of our units provide access to power points in just about any bench top, in any room, without compromising on your design. Get in touch – we hope to hear from you soon!
https://pointpod.com/wp-content/uploads/2020/08/pexels-julia-m-cameron-4144294.gif
1001
1500
Lucy Stephens
https://pointpod.com/wp-content/uploads/2018/02/logo.png
Lucy Stephens
2020-08-04 10:40:43
2020-08-20 11:50:22
6 Home Office Ideas for the Ultimate WFH Setup